Generation Next Blog
← Older posts
PISA panic and politics could really damage our schools.
In the aftermath of the OECD releasing the 2012 results from the Program for International Student Assessment (PISA), the Federal Education Minister, Christopher Pyne's declared that, "PISA shows us that our education system is high-equity where socio-economic status matters less when compared to other OECD countries"
Anyone who has spent anytime working in education would have raised an eyebrow that the PISA results could possibly indicate such a thing.
So in order to get a better idea of how "equitable" PISA showed our education system to be, I thought it would be pertinent to look at the 2012 report in some detail.
What PISA actually tells us, that for mathematics, (and I'm quoting verbatim):
"On average, students in the independent school sector achieved significantly higher than students in the Catholic or government school sectors, and students in Catholic schools scored significantly higher than students in government schools. These findings are also applicable to scientific and reading literacy."
Or more explicitly: "When student-level socioeconomic background is taken into account, students in independent schools performed significantly higher than students in Catholic schools, and students in Catholic schools performed significantly higher than students in government schools, although the differences are reduced."
I'm not sure how Mr Pyne misinterpreted that to mean that socioeconomic factors are somehow unimportant.
And as if we didn't know already, the picture is even bleaker for our indigenous kids who, on average, are two and a half years behind non-indigenous students across the board.
Worrying about how Australia compares to other top performing countries in PISA seems strange, when the top performing "country" is Shanghai, and when we have such deep-seated issues in our own – rather large and diverse – backyard.
Unfortunately it appears Christopher Pyne wants to sweep diversity under the carpet by dismissing socioeconomic considerations while continuing his mantra of all the evidence showing that better outcomes are achieved by "Lifting the quality of teaching, ensuring we have a robust curriculum, expanding principal autonomy and encouraging more parental engagement."
Leaving aside the fact that there is no evidence that greater school autonomy lifts performance, and his idea of a robust curriculum is one that isn't overly focused on Aboriginal history, his view on "teacher quality" is the one that has the potential to shape classrooms more than anything else.
He is on record as saying he wants to "dismantle student centred approaches" and return to a more "rote learning" methods. Leaving academic outcomes aside, it will be interesting to assess the impact such approaches have on students' levels of engagement and wellbeing.
But why would we want to adopt more rote learning, teacher driven techniques?
Because that's what they do in China.
Perhaps we should also follow their lead and have Big Tobacco fund our education system.
At least that would take care of that pesky Gonski situation.
Author: Dan Haesler is a teacher, consultant and speaker at the Mental Health & Wellbeing of Young People seminars He is the co-developer of Happy Schools and blogs at http://danhaesler.com/ and tweets at @danhaesler
Posted in
Culture & Society
,
Mental Health & Wellbeing
| Tagged
australia
,
education
,
education system
,
indigenous kids
,
parental engagement
,
PISA
,
politics
,
rote learning
,
schools
,
Shanghai
,
students
,
teacher quality
|
1 Comment
Girls Mag Review December
Melinda Tankard Reist
In 147 pages of beauty and fashion shopping, advice and advertising , along with tips on catching your "crush" this summer, there are, fortunately, a few articles that will actually help girls.
As you know, I always search for the personal stories which convey the reality of girls' lives as well as inspiring resilience and hope. Not all girls are as carefree as the slim, sun-kissed, smooth bum-cheeked, glowing girls in the full page Rip Curl ads (as noted in the past, the re-touch free zone and claims to want to represent a diversity of bodies in young girl mag pages, has never incorporated advertising).
I commend Dolly's editors for the piece 'Life as a young carer'. Most of us have no idea of the reality of so many young people who care for physically and mentally ill parents or siblings. There are 347,700 young carers in Australia – about two teen carers in every classroom. 56% of young primary carers are not employed or at school. Jazelle, 18, has been primary carer for her mum since she was 10. Her mother broke her back in a motorbike accident as a teen however needed more help when she was diagnosed with Lou Gehrig's disease five years ago. She is in and out of hospital and because she requires so much care, Jazelle does distance education. A timeline of an average day for Jazelle shows the extent of her caring role. Carers have the lowest level of wellbeing of any Australian group, with over half reporting some level of depression and need more support. Support can be found through your local Commonwealth Carer Resource Centre on 1800 242 636 or youngcarers.net.au for services in your local area. Dolly has initiated Young Carers Week (November 25 – December 1) – not much time for readers to act given this is the December issue, however hopefully the week will be more developed for next year. Readers are encouraged to reach out to any young carers at school, offer help and to send messages through Dolly to young carers. I really hope they do.
'Reality Reads' includes Bree, 15, who invented Happiness Day at her school after hearing a student say they'd like to be happy for one entire day, indigenous activist Jayde, 16, who is fighting to have Indigenous Australians recognised in the constitution – "I just wish for all Australians to be recognised equality and I don't want 40,000 years of our history to be forgotten" – and Jayla, 14, who lost her memory following a stroke. Once again it is good to see a diversity of girls represented in this section.
It has been encouraging to see Dolly and Girlfriend take the issue of alcohol and drug abuse in young women seriously this past year. 'Drugs: The Real-Life Effects' includes the personal stories of three people impacted by drugs – a recovered addict, a sibling impacted by his sister's drug taking, and a Sydney paramedic who has witnessed young people dying from drug overdoses. Mahalia, 18, smoked her first joint at the age of eight and progressed to ice by 16. Her recovery was achieved through the Ted Noffs Foundation in Canberra and she's got a fresh start. "The crew at Ted Noffs have been incredible. Every time I have a problem I talk to them. They make me feel proud that I go to work every day and pay my rent, proud I've lived to come out of this alive," she says. We are proud of you too Mahalia.
'Are your friends ditching you' is an important article about what to do when you are suddenly cut off from your friendship group. Being excluded and deliberately left out can constitute bullying – it's described as "relational aggression" according to Lucy Thomas, co-founder of Project Rockit (projectrockit.com.au) "It's where bullies mess with you by turning people against you, spreading rumours or humiliating you in front of others. Just because this happens behind the scenes doesn't mean it's not bulling, or that it doesn't hurt," says Thomas. Psychologist Dr Mary Casey says: "If the situation isn't handled, it could affect the victim's ability to trust friends in future." Readers are advised to understand the exclusion is not a reflection of their self worth, not to retaliate in the same way, to cultivate other friendships, and talk to someone trusted who is outside the situation. "If you're continually being excluded, these so called 'friends' aren't worth your time", says Dolly.
In its ongoing campaign against bullying, Dolly interviews 16-year-old actress Chloe Grace Moretz who writes about being bullied online and girls are given advice on what to do if they are experiencing bulling: don't respond, block and delete, screenshot evidence, seek help.
'Kick your unhealthiest habit' has sensible and practical advice for girls on how to break bad habits such as constantly checking their phone, smoking, biting nails and searing or saying 'like' all the time – like get rid of that already!). They are given help to identify the trigger for the habit, the routine that enables the habit to play out, and the reward to help you get out of the habit. Girls are advised on how to swap the habit with a healthier alternative, and to look at the habit as something that causes pain rather than pleasure. Girls are told it takes an average of 66 days to form a habit so they need to persist.
'Future You' offers career advice, and suggestions on how readers could improve applications in the future when they applied for a job and didn't reach interview stage. Possible mistakes are outlined, along with how employers interpret these and how to fix them. Some summer courses are offered for girls interested in media, science or fashion. Good practical advice for the job-seeking young woman. I tried to ignore the interview with Alison Butijer who is national womens wear visual merchandising manager at General Pants Co. But I didn't succeed. I wonder if she was in that role during the campaign against General Pants for its shop front window posters of a woman being stripped from behind and when the company required staff to wear 'I love Sex' badges? I wrote about it at the time in a guest post for Mumbrella. General Pants has a reputation for this kind of sexist behaviour. Get onto it would you Alison? Thanks!
Posted in
Mental Health & Wellbeing
| Tagged
advertising
,
alcohol and drug abuse
,
bad habits
,
beauty
,
career advice
,
dolly magazine
,
fashion
,
General Pants Co.
,
girls
,
Happiness Day
,
Resilience
,
students
,
Ted Noffs Foundation
,
young carers
,
young people
|
Leave a comment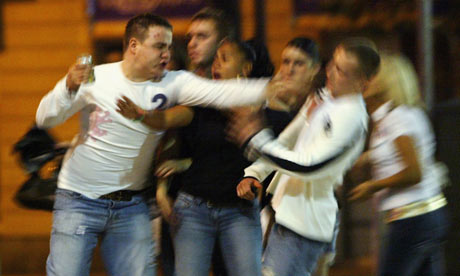 Ninety deaths have been attributed to single-punch assaults around Australia since 2000. Too many young lives are being cut short by these senseless acts of violence.
Alarmingly, this figure is likely to be an underestimation of the true number of single-punch deaths. As well, there are the numerous other types of assaults involving multiple hits or the use of weapons.
Despite common belief that these late-night assaults involve the use of drugs and alcohol, a study to be published in Drug and Alcohol Dependence this month strongly suggests that it is alcohol alone to blame in the overwhelming majority of single-punch fatalities.
via Stop alcohol-fuelled violence – it's killing our youth.
Posted in
Drugs & Alcohol
| Tagged
alcohol
,
alcohol-fuelled violence
,
alcoholic assaults
,
single-punch assaults
,
violence
,
young people
|
Leave a comment
A roadblock in the brain makes reading difficult for people with dyslexia, a new study suggested Thursday, contradicting long-held opinion.
The findings in the US journal Science add to an ongoing debate over whether the inherited neurological disorder is caused by faulty brain wiring or the brain's inability to understand the interaction of sounds and symbols that form language.
Dyslexia is a learning disability that affects about 10 percent of the population and occurs among people of all economic and ethnic backgrounds.
The findings were based on brain scans of 23 people with dyslexia and 22 without, showing dyslexics understand the sound units fine but lack the brain connections to 2%.
via Dyslexia may be due to faulty brain wiring, study says (Update).
Posted in
Science
| Tagged
Brain
,
brain development
,
brain wiring
,
dyslexia
,
learning disabilities
,
neurological disorder
,
study
|
Leave a comment
The researchers found that healthier diet patterns—for example, diets rich in fruits, vegetables, fish, and nuts—cost significantly more than unhealthy diets (for example, those rich in processed foods, meats, and refined grains). On average, a day's worth of the most healthy diet patterns cost about $1.50 more per day than the least healthy ones.
The researchers suggested that unhealthy diets may cost less because food policies have focused on the production of "inexpensive, high volume" commodities, which has led to "a complex network of farming, storage, transportation, processing, manufacturing, and marketing capabilities that favor sales of highly processed food products for maximal industry profit."
via Eating healthy vs. unhealthy diet costs about $1.50 more per day.
Posted in
Mental Health & Wellbeing
| Tagged
diet
,
diet costs
,
diet patterns
,
food industry
,
healthy diet
,
Healthy eating
,
processed food
|
Leave a comment
A new brain connectivity study from Penn Medicine published today in the Proceedings of National Academy of Sciences found striking differences in the neural wiring of men and women that's lending credence to some commonly-held beliefs about their behavior.
In one of the largest studies looking at the "connectomes" of the sexes, Ragini Verma, PhD, an associate professor in the department of Radiology at the Perelman School of Medicine at the University of Pennsylvania, and colleagues found greater neural connectivity from front to back and within one hemisphere in males, suggesting their brains are structured to facilitate connectivity between perception and coordinated action.
via Study reveals striking differences in brain connectivity between men and women.
Posted in
Science
| Tagged
Brain
,
Early Childhood Longitudinal Study
,
human behaviour
,
men
,
study
,
University of Pennsylvania
,
women
|
Leave a comment
Sufferers become obsessed by perceived – but in reality almost non-existent – flaws in their appearance. A specific area usually becomes the target – their nose, hair, or weight. Dieting, weight lifting, excessive exercise, tanning, measuring, camouflaging techniques, and agoraphobia are just some of the cruel behaviours associated with the disorder as sufferers try to hide or fix a flaw that doesn't exist, or barely exists. It can ruin lives.
Anxiety Australia estimates 1-2 per cent of Australians suffer from BDD. While those sufferes represent the more extreme end of body dissatisfaction, figures reported by the Australian Psychological Society show the extent of general body dissatisfaction in our society is alarming, with more than 70 per cent of Australian girls wishing to be thinner and an equivalent number of boys wanting to be either thinner or bigger.
via What it's like to suffer from body dysmorphic disorder.
Posted in
Culture & Society
,
Science
| Tagged
Anxiety Australia
,
Australian Psychological Society
,
BDD
,
body dissatisfaction
,
body dysmorphic disorder
,
body image
,
disorder
,
non-existant flaws
,
young people
|
Leave a comment
A growing body of research on conditions from bipolar disorder to schizophrenia to depression is starting to suggest a tighter link than was previously realized between ailments of the mind and body. Activation of the immune system seems to play a crucial role in both."We just didn't understand how much of a role the immune system plays in how we think and feel and act," says Andrew Miller, a professor of psychiatry at Emory University. "An overactive immune system or when there's something going on in the immune system, it can have consequences on the brain."
via Immune system may play crucial role in mental health.
Posted in
Mental Health & Wellbeing
,
Science
| Tagged
bipolar disorder
,
Brain
,
Depression
,
Emory University
,
immune system
,
mind and body
,
overactive immune system
,
schizophrenia
|
Leave a comment
Friends of ADCA, the Alcohol and Other Drugs Council of Australia, has launched a petition http://chn.ge/1b9KBCx to the Prime Minister to reinstate the organisation's funding. ADCA, the national peak body representing organisations and workers in the sector for nearly half a century, learned in late November that the Assistant Minister for Health, Senator Fiona Nash had cut its funding immediately, sending the organisation into voluntary administration.
ADCA has been funded continuously as the national peak for nearly half a century. As the latest casualty in the new coalition government's austerity drive, the impact of this decision will be felt across the community according to the organisation's patron, Professor Ian Webster AO. "In 46 years, this is the only government that has decided it can do without ADCA's advice," Professor Webster said.
Governments of all persuasions have for years approached ADCA for advice on alcohol and other drug (AOD) matters, trusting its reputation as a reliable, balanced source. While such advice may not have always been palatable to them, it has always been unbiased and evidence based.
"The government's decision is a devastating blow to the sector and undermines years of work to minimise alcohol and other drug-related harm across the Australian community. It effectively erases decades of corporate knowledge – and leaves the sector without representation at a national level," ADCA Chair Dr Mal Washer said.
ADCA's National Drug Sector Information Service, a repository of nearly 100,000 AOD resources, will effectively shut down as a result.
"This is one of the world's most comprehensive AOD library services which has been accessed for years by other libraries and individuals worldwide. Its contribution to clinical practice and professional development is inestimable," according to ADCA Vice President Professor Alison Ritter.
Other projects and services affected by the funding cut include:
Drug Action Week, which for 16 years has allowed communities Australia wide to raise awareness and commemorate those working to reduce AOD harm – and the associated National Drug and Alcohol Awards
The National Inhalants Information Service, the first central online information source for volatile substance misuse
 The Register of Australian Drug and Alcohol Research and,
Drugfields, a new project designed to encourage and support workforce development.
"Each of these is highly significant to research, awareness and the sector's future workforce," Ian Webster said. "Workforce sustainability must rank as one of the most important issues of our time – regardless of the sector."
"The government needs to reconsider its shortsighted decision. Every day, media outlets are full of stories of AOD related violence, crime, the disadvantaged, homelessness and poverty. The cost to the community is crippling, yet governments seem oblivious to it.
"One major group affected by serious AOD-related harm is our first Australians. The Prime Minister wants to be a Prime Minister for Aboriginal Australia. He needs to understand how this decision will further alienate the peoples he claims he wants to represent," Professor Webster said.
Click here to sign the petition to save ADCA: 
Contact
Rob Gill
Communications and Policy Officer
M: 0438 618983 T: 02 62159817
Henry Kazar Administrator [email protected]
Posted in
Drugs & Alcohol
| Tagged
ADCA
,
Chair Dr Mal Washer
,
clinical practice
,
crime
,
drug-related harm
,
Drugfields
,
homelessness
,
National Drug Sector
,
poverty
,
professional development
,
research
,
the disadvantaged
,
violence
|
1 Comment
The recent SMH article outlining author Mem Fox's genuine concern about the increasing use of technology as a replacement for parental interaction with their kids was spot-on, and should raise alarm bells – but will it?
I know I'm not Gen X, Y or Z – happy to admit I am a Baby Boomer – but if the trend of poor communication between parents and their kids continues, it won't matter what generation you are…you will be losing the art of communication in its most basic form. The impact of poor communication can reflect long term on the relationship you have, or are building, with your kids.
This is not about research, it's not about theory, it's not about the positives and negatives of the new age of technology. This is about the simple art of effective communicating…and effective parenting. Now, put down your iPhones for a minute and consider this scenario – maybe it looks familiar.
A few months ago I was sitting in a local Hungry Jacks in Victoria, sipping on coffee before heading off to one of my afternoon workshops. There, across the way, was a young mum (probably about 30) with her pre-school aged daughter. Typical of girls, the youngster was talking non-stop; asking questions; pointing at passing traffic; asking if they could go to the park before heading home.
The restaurant (for want of a better word) was decorated in '50′s style, with pictures of James Dean, Frank Sinatra and Elvis Presley adorning the walls. Mum and daughter were sitting directly underneath a photo of Elvis Presley. Now, mum had not made eye contact with her daughter the entire time, responding to her daughter's chatter with nothing but a "mmmm" and preferring to continually text whoever was on the other end of her iPhone.  Daughter looked up at the photo and asked "Who's that, mummy?" Mum might genuinely not have known who it was – although I find it impossible to believe that a 30 year old would not recognise Elvis Presley. A fleeting glance was followed by a "Dunno" and mum continued to text. I could have walked over and throttled her! I said to my husband on our way out, "When that little girl is a teenager and doesn't tell her mum anything, she is simply paying forward the favour her mum has paid her!"
I could trot out all kinds of research to support my claim that relationships with our children are forged from a very early age – infancy – not when we think they are verbal enough for us to have a conversation, or when we think they can understand what we are saying! There are so many ways to communicate our interest in our kids – not everything needs to be put into words. It can be an expression, a touch, a smile, eye contact – but texting is NOT one of these ways. Texting while our kids are talking to us is even worse. What kind of a message are we sending?
There are many more examples I could detail, but I won't. Sadly, the habit of texting as our prime method of communicating is not confined to the young. We 'oldies' do it too. Many of us do know the alternative methods of actually speaking person to person, but in our hectic world we often choose the easy way to keep in touch.
My fear is that if we don't put our phones away and make more genuine attempts to keep lines of communication with our kids open while they are young, it may be too late once they hit puberty and adolescence – a time when it is typical for teens to display 'attitude' and non-verbals! Don't wait until it is too late – make the effort to talk to your kids; make eye contact; show genuine interest in what they are doing. If we wait until we're ready, it may be too late.
It can start with a simple five minutes of reading together with your child – or ten minutes in the park actually playing with them, instead of sitting on a bench and texting. As Mem Fox states, "If we can't spend time with our kids, we shouldn't be having them." This is not rocket science – this is parenting. What you do, or don't do in their early years has a major influence on their long-term development, and time spent now translates into a more positive relationship with your child in later years. Over 25 years I have worked with too many parents who have missed the boat and now regret it – don't be one of them.
ANGIE WILCOCK

High Hopes Educational Services
www.highhopes.com.au
Posted in
Culture & Society
| Tagged
Baby Boomer
,
children
,
communication
,
iphones
,
kids
,
parenting
,
Parents
,
phones
,
relationships
,
technology
,
texting
|
Leave a comment
← Older posts