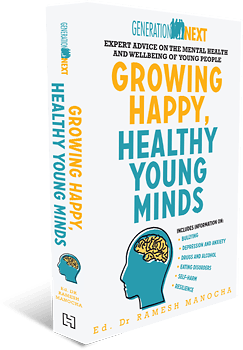 Growing Happy,
Healthy Young Minds
Edited by Dr Ramesh Manocha & Gyongyi Horvath
To read the full chapter go to Volume 1, chapter 18, pp. 281-291.
Andrew Fuller
Director, Resilient Youth
Andrew Fuller is a clinical psychologist and the author of many bestselling books that have been translated into twenty languages. These include Life: A Guide – what to expect in each seven year stage, Tricky Teens, From Surviving to Thriving – Promoting Mental Health in Young People, Tricky Kids, Raising Real People, The Brain Based Learning E-manual, and Tricky People. Andrew is a director of Resilient Youth.
Website: www.andrewfuller.com.au
The changes that occur in most people's lives are both rapid and pervasive. Seismic shifts in awareness occur. People change jobs, roles, schools, relationships and themselves in the flick of a moment. Just as episodes of trauma can shift the direction of life, so can times of positive growth and experience. People can transform and reinvent their lives.
You may have experienced this personally. You may have left a conversation or an encounter irrevocably altered. Your worldview expanded. The pathway to a new way of living opened before you. There may be in your history or in your family's history times when circumstances shifted rapidly. In those moments the presence of resilience is lifesaving.
It is like the old story about a client who experienced a lifechanging session with a psychologist and asked them, 'How long did it take you to learn to do that?' The reply was, 'It took me five minutes to say it and twenty years to learn what to say.' Change in life can occur rapidly but it often has had years of small practices that allow the change to occur.
We are what we notice. In the average day we perceive over 7000 different things, feelings, ideas and sensations. We can't process all of those 7000 perceptions so we select some of them to make sense of. By making sense of those perceptions, we create a story of our day that helps us to understand what has been happening.
Our understanding of how our day has been is a story we create from the perceptions we have selected. You might have noticed this. You might have had days when it seems nothing goes right. You might have had other days when you've felt nothing could go wrong. Of course you've also had days that were a mixture.
By consciously deciding to pay attention to the good things that occur to us, we increase the balance of good to bad days. The main way of doing this is to be appreciative or grateful of the small things that happen in each day.
Want to Learn More, Get Help or Find Support?
More resources will be available soon!
There are currently no podcasts available. This page will be updated once new podcasts have been created.
More resources will be available soon!
More resources will be available soon!
There are no further chapter references for this chapter