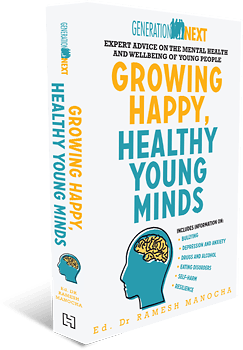 Growing Happy,
Healthy Young Minds
Edited by Dr Ramesh Manocha & Gyongyi Horvath
To read the full chapter go to Volume 1, chapter 2, pp. 17-31.
Dr Claire Kelly
Manager of Youth Programs at Mental Health First Aid Australia
Dr Claire Kelly is the manager of youth programs at Mental Health First Aid Australia. She has been a main contributor to the mental health first aid guidelines projects. Claire has experienced episodes of depression and anxiety since early adolescence, which has been a driver for her work.
Website: www.mhfa.com.au
Mental illness is common in young people. To encourage them to seek and accept help, adults can learn simple mental health first aid skills and communication techniques. This chapter is written for teachers in particular.
Want to Learn More, Get Help or Find Support?