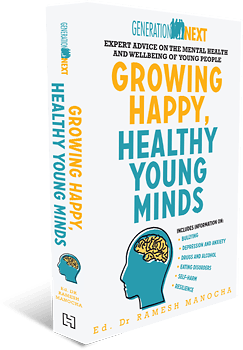 Growing Happy,
Healthy Young Minds
Edited by Dr Ramesh Manocha & Gyongyi Horvath
To read the full chapter go to Volume 1, chapter 6, pp. 80-95.
Dr Claire Kelly
Manager of Youth Programs, Mental Health First Aid Australia

Dr Claire Kelly is the manager of youth programs at Mental Health First Aid Australia. She has been a main contributor to the mental health first aid guidelines projects. Claire has experienced episodes of depression and anxiety since early adolescence, which has been a driver for her work
Non-suicidal self-injury is a dysfunctional coping strategy that is often used by young people at times of great distress, and often indicates an underlying mental health problem. This chapter describes the problem and offers advice on how to assist a young person who is engaging in this behaviour.
Want to Learn More, Get Help or Find Support?