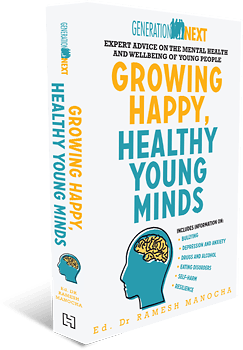 Growing Happy,
Healthy Young Minds
Edited by Dr Ramesh Manocha & Gyongyi Horvath
To read the full chapter go to Volume 1, chapter 22, pp. 335-348.
Dr Michael Nagel
Associate Professor, University of the Sunshine Coast
Dr Michael Nagel is an Associate Professor at the University of the Sunshine Coast, where he teaches and researches in the areas of cognition, human development, behaviour and learning. He is the author of ten books on child development and learning used by teachers and parents in over twenty countries. Dr Nagel has delivered over 300 workshops and seminars for parents and teachers nationally and internationally. Nominated as Australian Lecturer of the Year each year since 2010, Dr Nagel is a member of the prestigious International Neuropsychological Society, is the Queensland Director of the Australian Council on Children and the Media, and is a feature writer for Jigsaw and the Child series of magazines which collectively offers parenting advice to more than one million Australian readers.
Website: www.michaelnagel.com.au
Until recently, very little was known about brain development during the teenage years. Advances in research and technology have now provided us with very important insights into the developing teenage brain, which in turn should help us to better understand and engage with young people.
Want to Learn More, Get Help or Find Support?