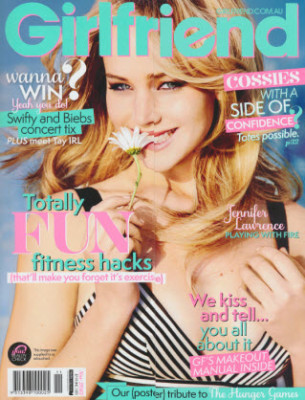 Melinda Tankard Reist
Girlfriend and Dolly can be commended this year for taking strong stands on alcohol and drugs. This issue of GF is no exception, with 'The High Life' exploring the harms of smoking marijuana. When celebs boast about it – such as Miley Cyrus posting a photo of herself smoking pot with the caption "High as f—" and Rihanna posting a marijuana plant she received for Valentine's Day, this celeb endorsement gives the drug a big tick. GF points out however that the drug is "more harmful than most people realise." "Short-term marijuana usage increases your risk of heart attack by five times in the first hour of smoking it and the risk of impaired judgment can lead to impulsive decision making, injury, or even death," says Jan Copeland, director of the National Cannabis Prevention and Information Centre. It also doubles your risk of having a car accident. Girls who have smoked the drug describe a lack of motivation to deal with what was stressing them out, which contributes to feeling more stressed later. Fifty percent of long-term users develop a dependency. Users are more likely to suffer from anxiety attacks, psychosis and schizophrenia as well as lower IQ's.
'Is someone else directing your life?' encourages girls to take control of their destiny, rather than be driven by others. "…if you find yourself increasingly frustrated with your life and/or where you're headed, or feeling jealous of someone else's success, it may be that your people-pleasing habits are getting the best of you. You also haven't been true to what you really want, deep down," says psychologist Dr Pene Schmidt. You can tell if someone has too much influence over you by the way they make you feel. "If you find yourself feeling worried, anxious, uncomfortable, or resentful, these can be great warning signs to let us know that we need to stop and reassess the situation," she says. If friends continue to dictate the terms of a relationship, then perhaps it's time to find new ones Girls are also given advice on communicating with parents who may be putting them under pressure. "Assertive communication is one of the most valuable tools teens can use if they're experiencing conflict with their parents", says Dr Schmidt. All good, but perhaps could have done without the half page illustration of a mother shouting through a megaphone with the words 'Bla', 'Bla', 'Bla' coming out of it maybe implying mothers yell but have nothing important to say which may not facilitate the positive and calm communication encouraged in the article. (Yes, I know, I'm a mother).
Parents are also the subject of 'Help my parents are embarrassing me' which helps young people deal with embarrassment caused by mums who do 'uncool' things like pick their daughters up from school with Susan Boyle blasting from the car stereo (Roachford's Only to be with you is fine though right?) or dads who think they can "twerk better than Miley" (that would constitute a case for a child divorcing said parent, in my view). GF wants to help girls realise that "even though they're a bit daggy, they're still awesome people." "More often than not, your parents are actually coming from a good place" (unless it's a twerking dad – that's coming from a really bad place). As the mother of a 17-year-old daughter who recently told me 99 percent of my clothes were ugly and that I was committing 'social suicide' by wearing them in public – especially with her – I did appreciate GF reminding children that "parents have feelings too" and that they should ask themselves why can't parents "be themselves"? Having said that, I have since donated most of my wardrobe to op shops, much to the relief of the teen girl child. Regarding parents on their kids FB or uploading awkward pics of their kids on Instagram, girls are advised that parents are into FB as much as their kids to "negotiate and agree on how you communicate with each other using social media". (GF has a cute disclaimer that "your parents did not pay us to write this" article).
'Switched On: Sorting out the small things, helps girls deal with clutter when it takes over their lives (note to self: clutter is taking over your life). Girls are advised to ask for help, tackle one areas at a time, make piles of stuff to keep, donate and throw away, get harsh – if you haven't used it in a year or more ask whether you actually need it and plan for the future – put things away after use and do a thorough tidy once a week. Refreshingly, in a magazine jammed with fashion, beauty products and stuff to buy, Sarah Cottman, President of the Australasian Association of Professional Organisers, says "Pick [an item] up and ask yourself where it will go in your life."
Hailing from the country myself, it was nice to see a feature 'Life in the country' featuring Claire, 15, Jess, 16, and Justine, 16, writing about their lives in rural Australia. They talk about the benefits of living in a close knit community, quieter lifestyles and slower pace as well as downsides like sometimes not having enough to do.
An 'Exam Survival Kit' offers tips on getting through exams, such as time management, preparation, food as brain fuel, taking time out and getting enough sleep. Good advice for any project really, not just exams.
'Sorry: five things you should never apologise for' encourages girls not to be sorry for things they should be proud of. So often girls (and women) apologise unnecessarily. Body Love is listed first. "When you apologise for your body, it can show that you're not confident and feel inadequate with yourself," says clinical psychologist Melissa Theobald. We shouldn't say sorry that our bodies let us dance, play sport and "eat chocolate". That's fair enough – but I've always thought that the word "love" isn't quite right here. Love is a strong and passionate word! I think respect and honour are perhaps better. The others are: Achieving something awesome – "It's important to recognise and celebrate what you've achieved as this helps you to feel good about yourself. People who feel good about themselves are happier people" – Saying no – "It's important to be assertive. If you stop apologising for saying no, others will respect and value your more"; Being yourself; Being super smart. Related is 'Help! My bestie can't see she's beautiful' advises girls on how to assist a best friend who is constantly putting herself down, can't take compliments and continually comparing herself to others. Therapist and Body Matters Australasia Practice Manager Kassandra Bottalico (bodymatters.com.au) points out that dieting is "the biggest risk factor for developing an eating disorder, and it's becoming common with girls who don't feel good enough." Girls can help their friends by not commenting on their looks and praising her talents instead, ditching diet discussion and when in public not commenting on what people are eating.
Commendations also for the real life story by Krishelle, 19, who recovered from depression and anxiety. These stories are so important to give other girls permission to open up about their own struggles, especially given these conditions are at epidemic levels. Exercise was particularly helpful. "Every time I was there [at the women's gym] I felt like I could conquer anything life threw at me," Krishelle says. Seeing a psychologist also helped as did getting a job. "The biggest lesson is my life has been to learn to love myself for who I am and to do things that make ME happy." This year she took part in the Bridge to Brisbane fun run as part of Suncorp Bank's run Positive campaign and raised $2400 for Beyond Blue. "I want other people with anxiety and depression to know it does get better. You get stronger and you'll be surprised with what you learn about yourself along the way!"
Good on you Krishelle I have no doubt your bravery in sharing your story will help so many other young women.