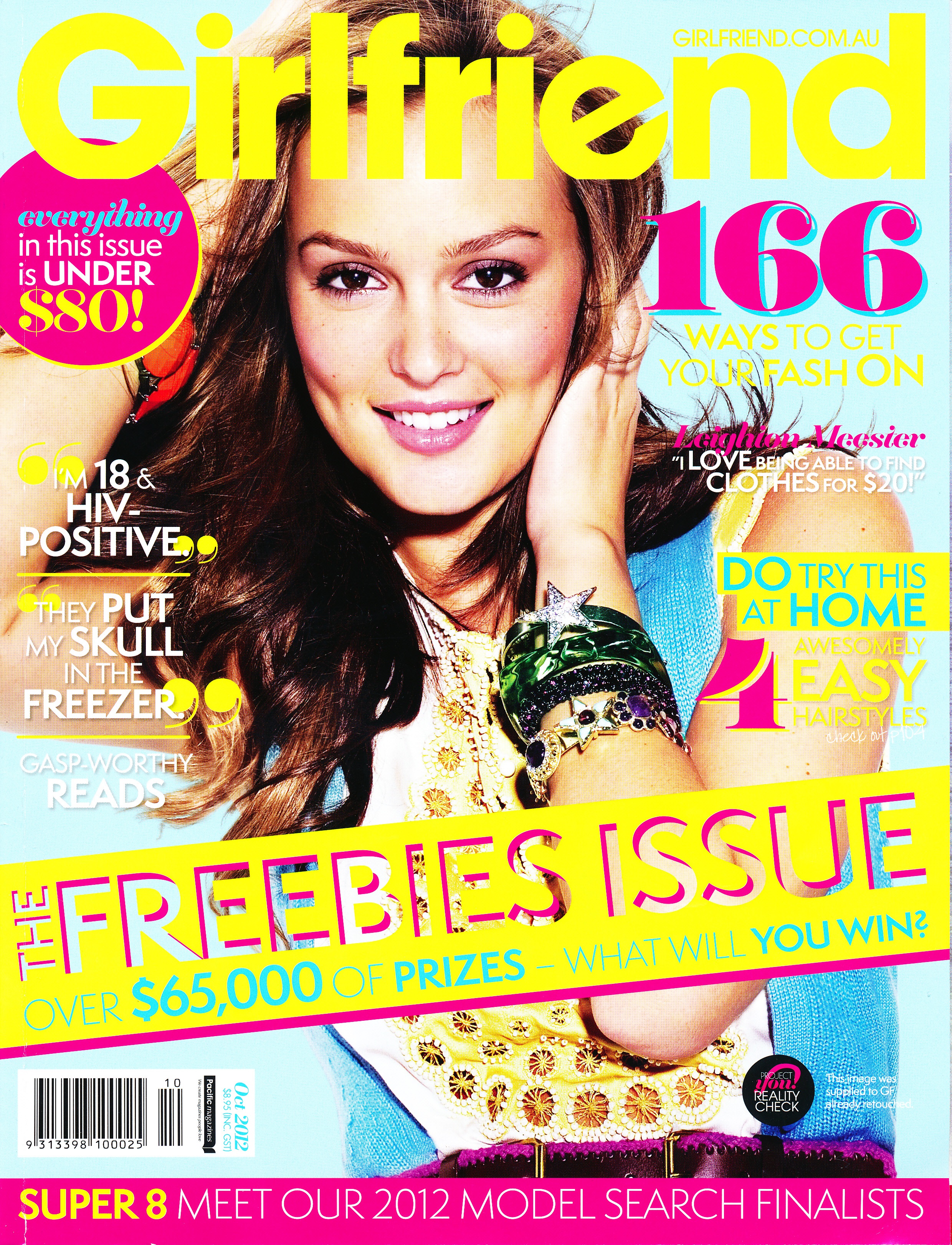 Girl Mag Watch October 2012
Reading the October issue (yes, I know, just scraping this review in in time) of Girlfriend, I found myself checking the front cover to make sure I'd picked up Girlfriend and not Dolly.
I'm wondering if perhaps Girlfriend is moving in on Dolly's readership. And, if so, could this see Dolly pitching openly to 9 and 10-year-olds?
The 'Reader of the Month' is a 12-year-old: Kayleigh from Queensland. Buying Girlfriend is "my favourite part of the month" she tells us. Girlfriend is "like the teenage-girl handbook" (even for girls who aren't yet, apparently).
We meet Girlfriend's Model Search Finalists. While Dolly came in for criticism for reviving its model search http://melindatankardreist.com/2012/07/teen-magazine-blows-its-cover-in-search-of-impossible-perfection/, (its winner was 13), Girlfriend's competition has been ongoing. But Girlfriend's finalists are in a similar age range to Dolly's. Under the heading 'I wanna be a supermodel' is Georgana, 13, Sharnee, 13, Jade, 15, Jessica, 14, Elizabeth, 14, Molly Grace, 15, and the comparatively older Stephanie, 17.
So now we have Girlfriend and Dolly – who took out first and second prize in the inaugural Federal Government body image awards this year – both pitting young girls against each other in a competitive appearance-based model search. If a 13-year-old wins Girlfriend's competition, will she be modelling adult women's clothing? Be posted and styled as an adult woman?
If you're looking for a diversity of body shapes and sizes in Girlfriend's line up, you'd be wasting your time. Apart from Sharnee, who is slightly Asian in appearance, these girls fit a mould. They all have the same body type (there's not even a token 'plus size' among them). Their faces are of dreamy eyed dewy perfection. The group finalist's shot does not have bear Girlfriend's 'Project You reality check' (previously known as the 'Self Respect reality check', 'Project You' is explained here http://au.youth.yahoo.com/girlfriend/gf-guru/article/-/14691348/introducing-project-you/ (though a couple of individual shots do). It's unclear if it was re-touched.
Teenagers tell me they often scan the pages of magazines to check out the women and girls featured and then compare themselves to those images. This is mostly a depression-inducing exercise. If Dolly and Girlfriend – recipients of a significant Government award – care about this, then shouldn't they select a diverse range of shapes and sizes to reflect what real readers look like? It's one thing to have a self-esteem campaign, it's another to address the external factors that make girls feel bad in the first place.
As Lydia Jade Turner of BodyMatters Australasia and I wrote about the Dolly model search: http://melindatankardreist.com/2012/07/teen-magazine-blows-its-cover-in-search-of-impossible-perfection/ "It is troubling to thrust any girl into an industry where they are taught what matters most is to fit some cookie-cutter mould of what women should look like".
The entrants are asked who they would 'Snog, Marry and Avoid': Prince Harry, Harry Potter and Harry Styles. Styles, in case you didn't know, is the One Direction idol who at 17 has been outed for an alleged "all night sex session" with a 33-year-old (married) DJ. Jessica, 14, and Sharnee, 13, say they would both "marry" Styles. Given that typing 'Prince Harry scandal' into google yields 5,980,000 results, that Harry Potter isn't real and that there was no option for 'NONE OF THE ABOVE', perhaps they felt they had little choice.
If Girlfriend is pitching to even young girls, then some parents and child advocates might be concerned that the content of Girlfriend's advice section doesn't appear to reflect this. There may be differences of opinion as to whether this is age-appropriate or not – but does the 12-year-old reader (perhaps an 11-year-old will feature next?) still in primary school, need advice about whether she should swallow her boyfriend's ejaculate? ("…If STI's are an issue, a condom is vital. While this will reduce his sensation a little, it will also mean he can ejaculate while his penis is in your mouth but you won't have to come in contact with it").
A section on 'What we wish we'd known about sex' has helpful personal accounts, though there is a gap between the ages they are having first sex and Girlfriend's state-by-state run down of age-of-consent laws. A 14-year-old tells of her disappointment with first-time sex and how she only did it to "please my boyfriend". Kelly-Anne, 16, describes her first sexual experience also as a 14-year-old. The ages of their sexual partners are not revealed, but if they were two years older its possible crimes were committed. That possibility isn't mentioned by Girlfriend. Leah, 18, faked orgasm with her boyfriend. Hannah, 17, had sex with her best friend's brother because "all our friends were doing it". She now realises there's "nothing wrong with waiting" and wishes she'd known that before. Franka, 16, describes a positive experience.
There's an important piece by Emily Maguire "Show us your…It's time to Hollerback" about street harassment, a growing problem encountered by women and girls but one rarely reported. Defined as anything from leering to actually groping, street harassment makes girls feel anxious and defensive. They can be told not to be so sensitive, even that they are receiving a compliment. Words shouted from a passing car are not complimentary, but as this article points out, scary. Advice is offered such as do not respond, and walk toward other people or a safe place. If you feel in immediate danger call 000.
"If someone threatens you or makes you feel fearful, you should report them to the police", says Inspector Tony Langton of the Victorian Police Safer Communities Unit. "They may be charged with unlawful assault even if there's no physical contact. Get as good a description of the person as safely as you can. If they're in a car, try to get the rego." Curiously, there was no mention of the fact that the 'Hollaback' movement against street harassment has launched in Australia (check my blog www.melindatankardreist.com this week for more).
In other positives, there's some excellent financial planning advice, a nice counterpoint to the pages and pages of fashion, beauty and stuff to buy. In 'Money 101' readers are offered advice about tax file numbers, interest, superannuation and tax returns. And a first person account of U.S HIV and AIDS educator Paige, 18, who is HIV positive as a result of her (now deceased) father passing the illness on to her mother when pregnant. It's a timely reminder that HIV/AIDS has not gone away.