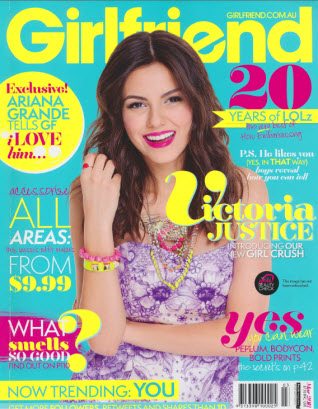 Important articles on the dangers of sexting and pressures on girls to deliver oral sex
There are two really important and timely articles in this issue. 'The Sext files', is straightforward and honest with readers about the risks of sexting. A recent GF survey found one in four readers have sent a sext. Personal stories are told of girls pressured to send sexual images, threats used to get a girl to send more pictures, images being shared with other without consent.
Kids Helpline, the Australian Federal Police, and Cybersmart all agree there is no safe way to sext, as once an image is sent, the sender loses control of it. "Girls can be embarrassed, bullied and socially outcast, which can affect friendships and grades at school, and can also lead to mental health issues", says Gretchen Martins from Cybersmart. Readers are reminded that if a male pressures them to send a sexual image, this is not the kind of man who respects them, nor someone they can trust. They are also given a rundown of where the law stands in relation to sexting – illegal if under 18, because they cannot legally consent. Taking and distributing images of under-age girls can represent the production
or distribution of child pornography material which can carry a penalty of 15 years. Practical advice is given on what to do if you are asked to send a sext  ("Remember the social and legal consequences and remind yourself that it's just not worth it."),  If you've sent a sext  (tell a trusted adult), and if you are sent a sext (delete the image, don't forward, tell trusted adult).
The second significant piece is on the pressure on girls to deliver oral sex. A 2011 study by thefound 37% of Year 10 students and 57% of Yr 12 students had engaged in oral sex. Girls describe an unspoken expectation that they will deliver oral sex when asked. Some describe giving in after multiple requests, even though they don't enjoy the experience. Jodie, 16, is one of them. She felt used and regretted giving in. "If I'd stood my ground, I would have been better off", she says. "Whatever the reason, girls seem to be working off the assumption that they need to trade sexual favours to please guys. Girls deserve better than this," says Girlfriend. Indeed they do and I commend GF for saying so.
Other articles include how to be a good listener (disciplining your mind to really listen, expressing the right body language, when to interact and when to be silent, the right setting, being a shoulder to cry on and what not to say, for example "Why are you being such a drama queen?").  Then follows how to manage when parents overshare, for example about finances being tight and when parents are separating and how not to get caught in the middle. "They need to remember that you're their child, not a confidante, and definitely not someone who should be stuck in the middle of their conflict." Practical advice is given on how to handle a family fight.  Another conflict themed piece is how to survive being ditched by your (so-called) best friend, walking the reader through three steps: grieving, acceptance and forgiveness.
'Your say' has six reader viewpoints on the teaching of sex ed in schools and whether it's adequate or not. Views range from too much focus on the biological, not enough on helping young people navigate sexuality, more needed on issues like sexual assault, not enough content relevant to student who identify as gay. "The busy girls guide to being healthy' contains practical health tips such as not skipping breakfast, healthy snacks, taking study breaks. 'The importance of standing by your decisions' helps girls to follow their instincts, or inner voice and not be pressured by others to ignore that inner compass.  Practical tips are given on how to make a decision and stick to it.  "Assertiveness is one of the most important tools for dealing effectively with others. It simply means standing up for yourself, speaking directly and expressing your ideas, wishes and concerns without making excuses or apologising."  A related piece is about standing up to a boyfriend's bad behaviour and not accepting excuses or rationalising the behaviour.
That's about real boyfriends. Then we go to the fake ones, or one, as exemplified in the opening piece.  A shame, as this review could almost have been entirely positive. "I lived the Bieber Girlfriend dream…!" is a crack up.  As I've pointed out before, winning the "Justin Bieber Girlfriend experience", while readers were invited to enter by describing in 25 words or less "Why should YOU be Justin Bieber's girlfriend?" to win the "Justin Bieber Girlfriend experience", the competition actually had nothing to do with actually meeting him or being his girlfriend. Claudia Colaneri's "daydreams about what it would be like to date JB" scored her a visit to Girlfriend HQ with her mum and best friend, with a makeup and photo shoot. The closest she came to Bieber was a "spritz of Justin Bieber's Girlfriend" perfume and (I love this bit) a life-sized Justin Bieber cut-out in their luxury hotel room. I lived the Bieber dream – by spending the night with my mum and bestie and a cardboard cut out of JB! What a way to spruik perfume. Related is 'Snuggle up with One Direction' – a full page ad for linen featuring the band members on it.