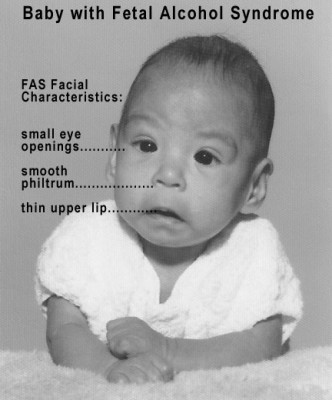 Despite the fact that nearly a year has passed since the Australian and New Zealand Food and Health Ministers recommended that the alcohol industry be given two years to voluntarily implement alcohol warning labels, less than 16%* of alcoholic products carry a consumer information message. Of those that do, 98% take up less than 5% of the label.
This is despite that fact that fetal alcohol spectrum disorders (FASD) has grown in awareness during recent years. The industry has until December 2013 before the government will move to mandate pregnancy alcohol warning labels.
DrinkWise messages currently found on alcoholic products.

'Kids and alcohol don't mix' found on only 10% of labels
'Is your drinking harming yourself or others' found on only 8% of labels
'It is safest not to drink while pregnant' found on only 5% of labels
The government is showing no signs of keeping a close eye on the alcohol industry's voluntary efforts. So now it is time to send a strong message to the government. Alcohol industry group DrinkWise has just launched a campaign to warn against drinking during pregnancy. It is backed by the Royal Australian and New Zealand College of Obstetricians and Gynaecologists and features a foetal medicine expert, Alec Welsh, who advises women that "drinking no alcohol is the safest choice for your baby".
The Foundation for Alcohol Research and Education (FARE**) Chief Executive, Michael Thorn, said
"What we need are evidence-based warning labels that are applied consistently across all alcohol products. That's something industry's half-baked voluntary scheme can clearly never deliver".
HOW YOU CAN HELP
We need to make the Government sit up and listen if it is going to stand up to the powerful lobby of the alcohol industry. So sign the petition which will be sent to the Hon Catherine King MP, Chair of the Legislative and Governance Forum on Food Regulation on 1 September 2012.
1. Sign the FARE petition to show the Federal Government that you support mandatory, independently regulated alcohol labels by signing their online petition.
2. Get social. Share a link to the petition on Facebook, Follow them on Twitter, watch their videos, and be the first to hear about their actions and events around the country by subscribing to their E News Bulletin.
3. Forward the FARE peition to a friend
*IPSOS DrinkWise Audit
**FARE is an independent, charitable organisation working to prevent the harmful use of alcohol in Australia. Since 2001, FARE has established itself as a leading voice on alcohol and other drugs issues. FARE works with community groups, all levels of government, police, emergency workers, research institutions and the private sector to address alcohol-related problems.
Writer: Helen Splarn. Editor: Dr Ramesh Manocha.
Source: DrinkWise. FARE